How It Works
A simple task list with simplified reporting.
But it's the simplicity that helps cut through the chaos for reporting to clients and stakeholders, particularly for freelancers and small teams.
Easily Track and Report:
Overall Project Status (% Complete)
Latest Activity
Next Milestone
Estimated Delivery Date
Simple Features,
Simplifying Results.
Everything you need to communicate, no extra bells and whistles.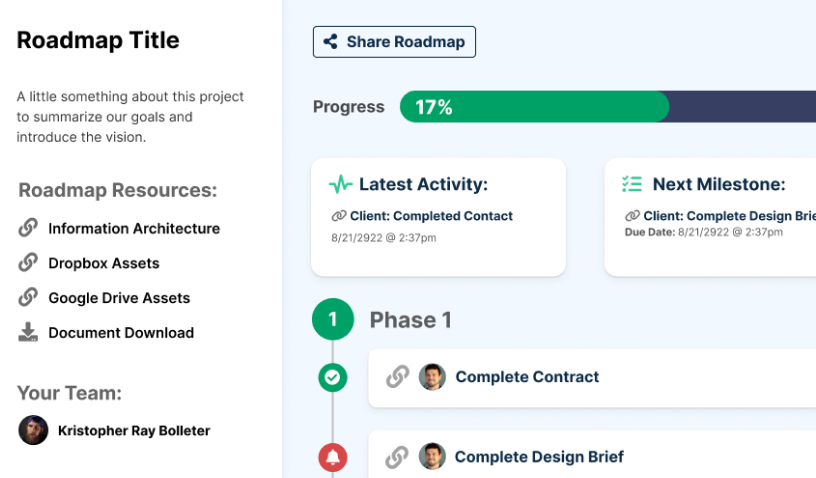 Progress Reporting And Tracking
Quantify the status of your project easily in an intuitive format all your stakeholders will understand (PERCENT % Complete). Roadmaps are simple linear lists of tasks, each with their own details and features to help itemize your goals and resources in a single place.
Join Our Beta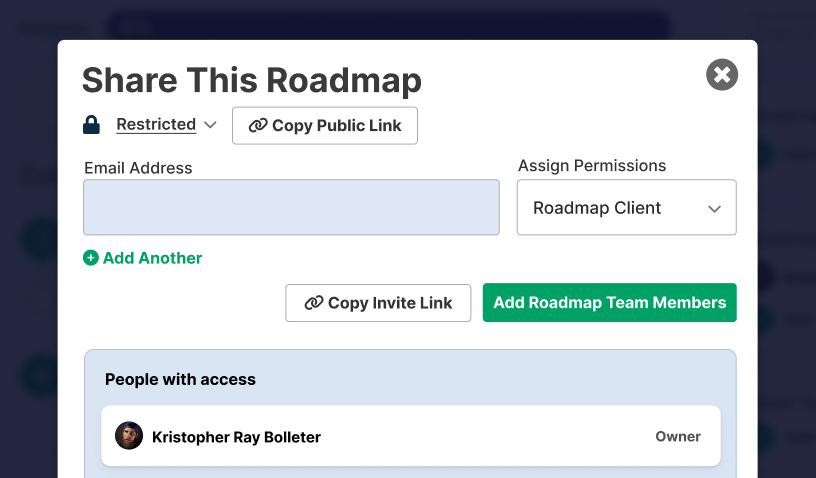 Simple Sharing and Access
We've never been able to get a client or stakeholder to login to a project management system, and they shouldn't have to! Easily automate reporting via email, printed PDF, or send them the link to the project Roadmap. Varying permissions keep your project data safe, and your client only needs to enter their email to login, no arduous setup required.
Join Our Beta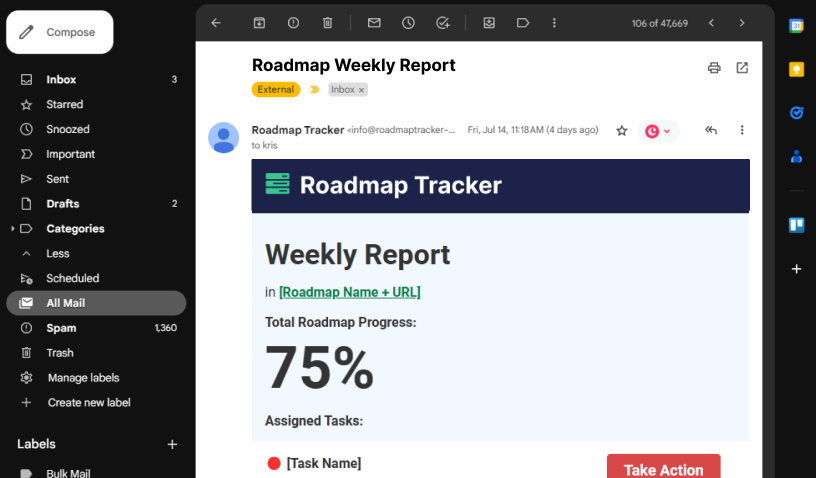 Weekly Reports
Automate the status updates before the client requests them. Keep everyone on track and accountable. Updates happen where you expect them, via a simple consolidated email.
Join Our Beta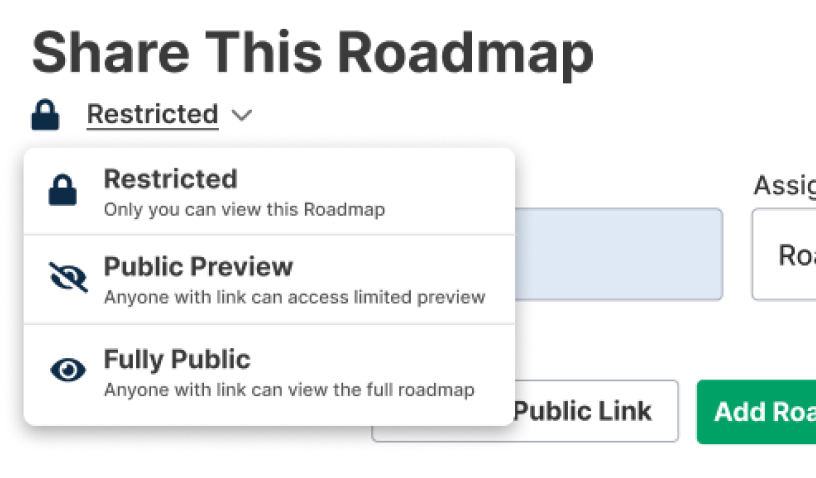 Permissions With Ease
By default, all Roadmaps are private, but if you're not saving any private data, you can make your Roadmap fully public, then team members and clients wont even need to login, just send them the tracking link and report the status with ease.
Join Our Beta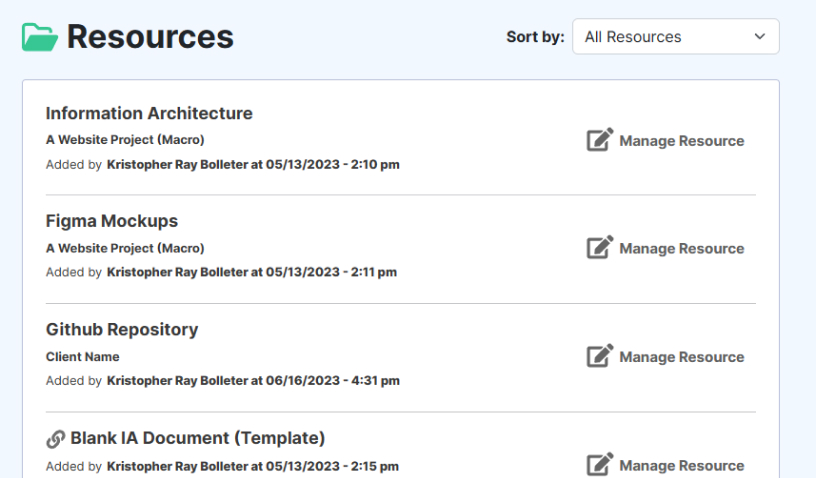 Resources and Links
Consolidate all your project's resources in a single place. Link to external applications and assets to create a single source of truth so your clients aren't digging through emails looking for that last deliverable.
Join Our Beta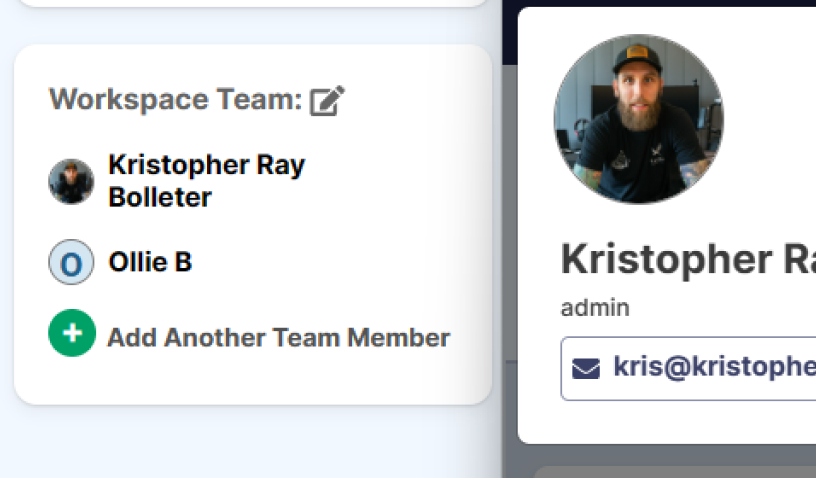 Team and Client Contact Cards
Simplify the project's contact directory. Anyone involved in the project on the team or client-side can populate their profile to facilitate the conversation where you already have it. We didn't create a redundant messaging platform.
Join Our Beta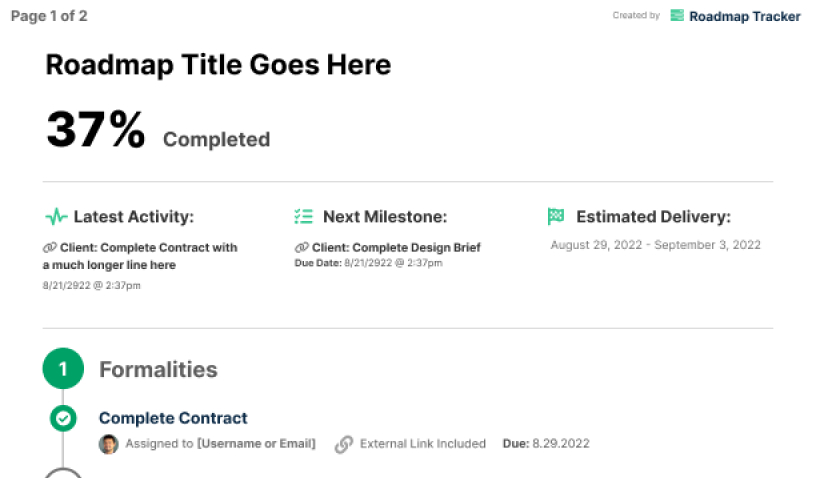 PDF Roadmap Exports
Easily export your Roadmap and current status to a print-ready PDF format so you can walk into you're next meeting ready to answer "What's the status?" by throwing down the printed report.
Join Our Beta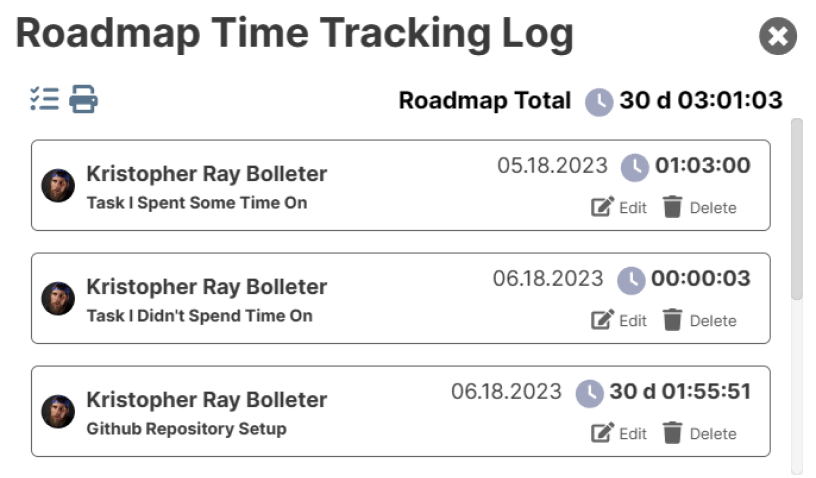 Pro Feature
Track and Manage Time
Simple time tracking and reporting functionality so you can share and quantify you and your teams contributions.
Join Our Beta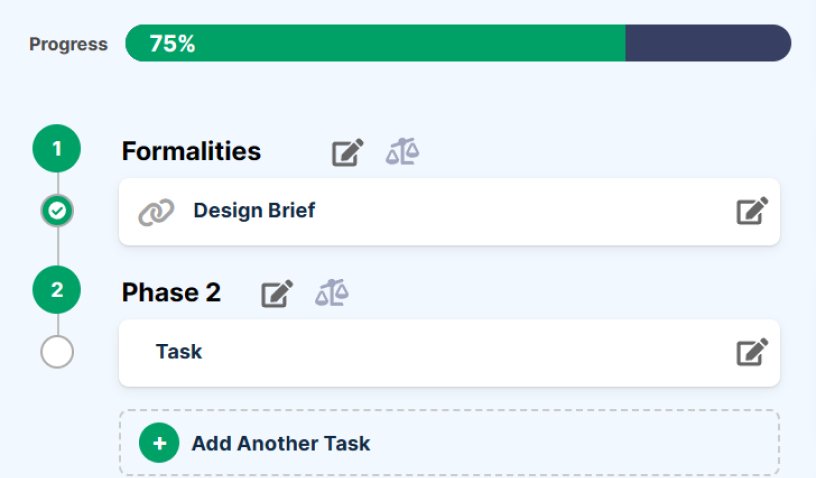 Pro Feature
Weighted Phases
By default, all Roadmaps are evenly divided by the number of tasks to calculate the percent (%) complete for reporting. Pro users can customize the weight of Phase to more accurately report the project's status.
Join Our Beta
Pro Feature
Roadmap Templates
Easily create new roadmaps based on your saved templates. Optimize your process further by updating your process after each journey.
Join Our Beta
Pro Feature
Branded Roadmaps
Dress to impress by adding you or your clients brand on the Roadmap. This ensures everyone feels right at home in a personalized tracking environment.
Join Our Beta
Pro Feature - Coming Soon
AI Roadmap Generation
Use the power of AI to efficiently plan and optimize your Roadmap Phases and Tasks. With the power of artificial intelligence powered by Meta's Llama 2 you can make your process even better!
Join Our Beta